207
Consumers installed
Rooftop Solar
4,571.71
Capacity Installed
(kW)
KEY HIGHLIGHTS RESIDENTIAL ROOFTOP SOLAR

Discovered rates: Rs 41-50 per watt (as per the range)

Vendors Empaneled - 33

Vendors Non-Subsidy - 18

Registration starts on - 31 March 2023
GEDA is a State Nodal Agency for implementation of Rooftop Solar Subsidy scheme in the state of Goa. The Goa Solar Portal is an Unified Single Window Portal for processing Grid-connected Rooftop Solar Applications. It has logins for GEDA and GED officers as well as for Empanelled Installers. Consumer are not required to login and they can just submit their request through "Apply for RTPV" section in this Portal. Upon submission of the inquiry, Empanelled Installers can connect with the consumer.
Goa Energy Development Agency (GEDA)

5th Floor, Goa -IDC Building ,Patto-Panaji-Goa
KNOW ABOUT ROOFTOP SOLAR PROCEDURE
Operation and Maintenance
Vendor will be responsible for operation and maintenance of project for 5 years.
System Commissioning
GEDA will install the Solar Rooftop project at consumer roof and synchronize the project with GEDA.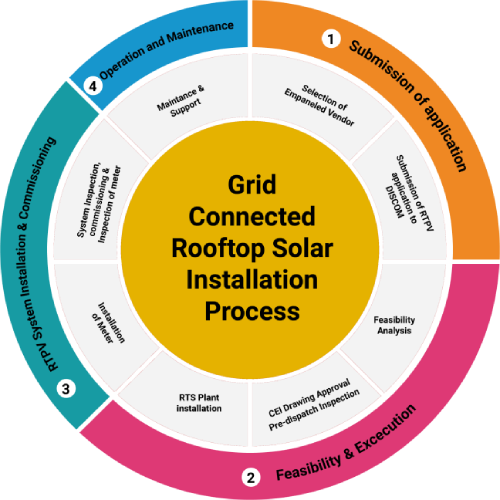 submission of application
feasibility analysis and installtion
Empanelled vendor and GEDA will analyse the feasibility of Solar Rooftop system
Empanelled vendor will apply for Net Meter from GEDA, on behalf of consumer
Empanelled vendor will commence installation of plant by empanelled vendor
ROOFTOP SOLAR INSTALLATION ACTIVITIES

Consumer
Selection of vendor from the list of empanelled vendors
Submission of Solar Rooftop application
Applying for Net Meter in GEDA
Payment of rooftop system instalment along with application and metering charges
Co-ordinate with vendor for system installation
Collect all the necessary documents from the installer
Signing Joint Inspection Report during plant commissioning

Installer
Coordinating and assisting consumer for application submission in portal
Feasibility analysis of Solar Rooftop in consumer roof
Installation of Solar Rooftop plant as per the GEDA specifications
Testing and commissioning of plant as per GEDA guidelines
Signing Joint Inspection Report after plant commissioning
Undertaking operation and maintenance of project for 5 years post commissioning

GEDA
Provide checklist of documents required for consumer application
Undertake technical feasibility of consumer application
Scrutinization of application documents Testing, the Solar Rooftop Project and ensuring compliance of grid
Interconnection and safety standards.
Signing Joint Inspection Report after plant commissioning